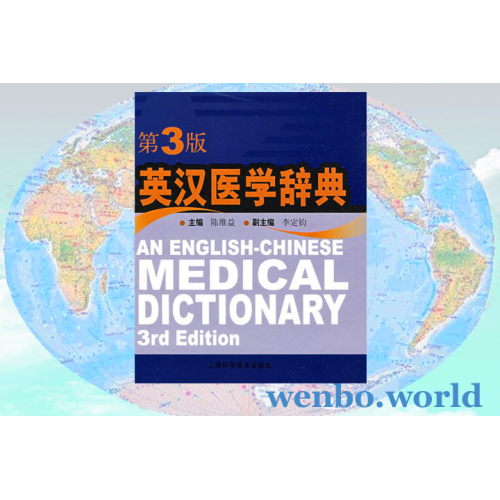 An English-Chinese Medical Dictionary
$29.99

Price in reward points: 2999
Keeps its original appearance and framework, being added 7000 new word treaties, translated according to the normative translations of medical and related disciplines published by the National Natural Science Termination Committee, and corrected the irregularities in the previous edition.
Title: An English-Chinese Medical Dictionary (3rd Edition)
Chief Editor: Chen Weiyi and Li Dingjun
Publishing: Shanghai Scientific & Technical Publishers, 2009 3rd Edition
Binding: Hardcover, 8.5 x 5.75 x 2 inches, 1236 pp
ISBN: 9787532394883
Since it was first published from 1984, An English-Chinese Medical Dictionary has been modified twice, the total circulation reaches over 0.45million. It's popular among readers and has contributes a lot to China's medical education and development.
英汉医学辞典(第3版)
作者:主编陈维益
出版:上海科学技术出版社,2009年04月,第3版
装帧:平装,32开本,1236页
正文语种:英语/中文
ISBN:7532394883
ISBN:9787532394883
条形码:9787532394883
内容简介
《英汉医学辞典(第3版)》自1984年问世以来,已两次修订,发行数量超过45万册,深受读者欢迎,对我国的医学教育和医学发展做出了一定的贡献。此时 此刻回首往日的点点滴滴,我颇感人生有期,学海无涯。记得1976年我从江西开门办学回沪,随即参加《英汉医学辞典》的编写工作。当时医学院的教务长金问 涛教授专门召集一次有各科医学专家参加的编审会,出席的专家有妇产科的王淑贞教授、眼科的郭秉宽教授、外科的陈化东教授和内科的朱无难教授等。在初版前言 中,我们仅笼统地表示对专家教授的感谢,而未提及他们的名字;其实他们对辞典原稿的审阅尤为严谨、细致。譬如说王淑贞教授对一些胎位的译名提出不同的看 法。如LMA(left mentoanterior),最早按英文的顺序译为"左颏前",但王教授改译为"颏左前",后来被《英汉医学词汇》(第2版,人 民卫生出版社,2000年)所认同,说明这一学术观点并不是王教授的一家之说。如今这些专家教授有些已离开了人世,但他们所付出的辛勤劳动及认、真负责的 态度却让我终身难忘。
目录
序
体例说明
正文
附录
一 动脉名对照表
二 肌名对照表
三 神经名对照表
四 骨名对照表
五 静脉名对照表
六 摄氏华氏温标对照表