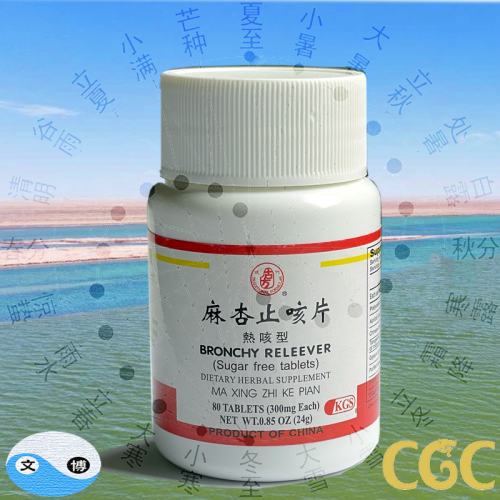 ma xing zhi ke (Bronchy Releever)
$6.99

Price in reward points: 595
for coughing, wheezing, or asthma with difficult or labored breathing, flaring and pain of the nostrils, thirst with dry throat, due to heat trapped in the Lungs, with or without an external Wind-Heat condition. The classical formula "Ma Xing Shi Gan Tang" (Ephedra, Apricot Kernel, Gypsum, and Licorice Decoction) in TCM is primarily used to ventilate the lung with pungent-coolness and clear the lung of heat for treating lung heat with cough and dyspnea combined with un-released exterior syndrome.
Product label: Bronchy Releever
(Ma Xing Zhi Ke Pian)
Packing: 80 tablets (300mg each)
Manufactured by Lanzhou Traditional Herbal Factory, China.
Ingredients:
Platycodon (root)
Apricot (seed)
Chinese licorice (root)
Tangerine (dried rind of mature fruit)
Gypsum (gypsum fibrosum)
Purified tale (pulvis talci)
Honey (mel)
Actions: Dispensing heat in the lung, relieving cough and asthma.
Indications: It is indicated for unrelieved exogenous pathogenic factors, cough and asthma due to heat in the lung, marked by fever, thirst, cough and asthma, nasal flaring, desire for drinks, perspiration or absence or absence of perspiration, thin whitish or yellowish fur, superficial and rapid pulse. It is applicable to common cold, acute bronchitis, bronchial pneumonia, lobar pneumonia, bronchial asthma, measles complicated pneumonia, etc., main symptoms of which are fever, cough and asthma and belonging to accumulation of pathogenic heat in the lung with unrelieved exogenous pathogenic factors.*
Directions: Take 4 tablets each time, 3 times a day as a dietary supplement.
*These statements have not been evaluated by the Food & Drug Administration. This product is not intended to diagnose, treat, cure or prevent any disease.
通用名称:麻杏止咳片
汉语拼音:ma xing zhi ke pian
包装规格:每瓶80片
主要成分:桔梗、杏仁、陈皮、石膏、滑石、甘草、冬蜜。
功能与主治:宣肺降气,镇咳平喘。用于肺热咳嗽、感冒过敏咳嗽、急性支气管炎、支气管肺炎、大叶性肺炎、支气管哮喘、麻疹合并肺炎以发热咳喘为主症。
服法与用量:口服,一次4片,一日3次。
注意事项:风寒咳嗽者不宜服用。
麻杏止咳片于医圣张仲景经典名方"麻杏石甘汤"千年验证基础上,经中医药名家研制而成,组方合理,药材道地,现代生产工艺制造,疗效确切。为众多患者广泛认可的止咳良药。千年古方,麻杏止咳,清肺化痰、镇咳定喘。