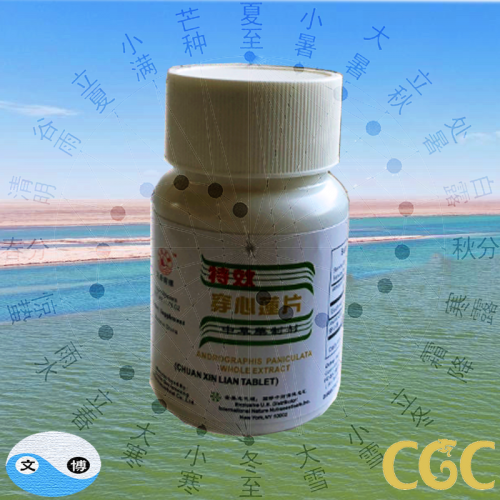 Andrographis paniculata whole extract
Brand: Product of China
Product Code: 1x100tbs
Reward Points: 60
Availability: In Stock
$6.99

Price in reward points: 599
A well known herbal remedy is commonly used to clear away heat and toxin in cases of upper respiratory infection, acute tonsillitis, urinary tract infection.
Product label: Andrographis paniculata whole extract
(Chuan Xian Lian Tablet)
Packing: 100 tablets / bottle, each tablet 500 mg
Product of China
Ingredients: Andrographis paniculata whole. Other ingredients: corn starch, Sucrose, FD&C yellow no. 6 as tablet coating.
Actions: Clearing away heat, removing toxic materials and dampness, cooling the blood, resolving inflammation, soothing the throat.
Indications: Common cold of wind-heat type, epidemic diseases with the symptoms of fever, headache, asthma, cough due to the lung-heat, pulmonary abscess, swollen and sore throat, acute throat inflammations with swollen glands and fever, acute gastritis, urinary tract infection, snake bite, eczema, diarrhea and dysentery due to damp-heat pathogen.*
Directions: As a herbal supplement , adults take 3 tablets each time, 3 times a day, with warm water. Don't use if you are pregnant.
*These statements have not been evaluated by the Food & Drug Administration. This product is not intended to diagnose, treat, cure or prevent any disease.
通用名称:穿心莲片
汉语拼音:chuan xin lian pian
包装规格:100片/瓶
主要成分:穿心莲等。
功能与主治:清热解毒,凉血消肿。用于感冒发热,咽喉肿痛,口舌生疮,顿咳劳嗽,泄泻痢疾,热淋涩痛,痈肿疮疡,毒蛇咬伤。西医诊断为上呼吸道感染、急性细菌性痢疾、急性胃肠炎、流行性腮腺炎、急性扁桃体炎、咽喉炎、急慢性尿路感染具有以上症状者均可使用。
服法与用量:口服,每次2-3片,每日3次,温开水送服。