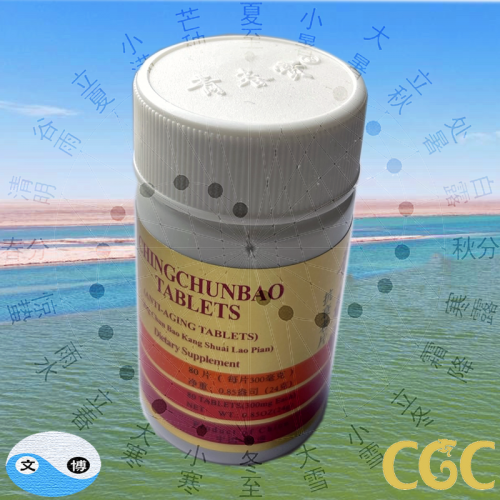 Ching Chun Bao Anti Aging Tablets
$39.99

Price in reward points: 3999
Asian ginseng type of aging-deferring, maintaining youthful tonic formula, for middle-aged or senior people, daily usage will benefit their vitality, immunity, and resistance to disease. The young may take it to maintain their full vigor and spirits.
Product label: Ching Chun Bao Tablets (Anti-aging Tablets)
Other used name or spelling: Qing Chun Bao Kang Shuai Lao Pian, Chingchunbao Tablets, Qing Chun Bao, Chiatai Qingchunbao.
Packing: 80 tablets per bottle, 1 bundle of 3 bottles for sale
Product of China.
Ingredients:
Radix Ginseng
Ganoderma Lucidum
Radix Asparagi
Radix Rehmanniae
Rhizoma Dioscoreae
Cortex Eucommiae, Semen Armeniacae Amarum
Radix Morindae Officinalis
Herba Cistanchis.
Actions: Increasing the vitality, refreshing the mind, strengthening the immune system, promoting production of body fluid, moistening the skin, maintaining good appearance, deferring aging.
Indications: Useful for poor memory, senility, fatigue, poor resistance to disease. Good for deferring aging, moistening the skin, maintaining good appearance to the quality life.*
Directions: As a dietary supplement, take 3-5 tablets each time, two times daily.
Caution: Do not use during pregnancy.
Notes: Just as its Chinese name (Qing Chun Bao青春宝) implies, Chingchunbao anti-aging tablets are a healthy supplement with benefits of the long maintenance of youth and the postponement of aging. Composed purely of traditional Chinese herbal medicines, this health care product origins from an imperial nostrum of the Yonle Imperial Hospital of the Ming Dynasty of China. After taking this prescription, Ming Cheng Zu (the 3rd emperor of the Ming Dynasty) Zhu Di greatly appreciated its outstanding effect and specially designated it as "prolonging life and maintaining youth forever" as praise.
The original formula of Ching Chun Bao has just been found in recent years, when historic files were sorted out. The health department of China gave the nostrum to the Hanzhou Traditional Chinese Medicinal Institute and the Hanzhou Second Traditional Chinese Pharmaceutical Works for analysis and research. As a result, it has been found that this formula has outstanding effect of the maintenance of youth and postponement of aging. The researchers even attempted to add or delete a few ingredients to or from the formula to change the proportions of the ingredients slightly by keeping the ingredients unchanged and the results were both far inferior to the affect of the original formula and the proportions. It is thus clear the accuracy of the formula really commands admiration.
With regard to this formula, Chinese medical experts have made a great number of scientific tests and determinations for a long time. Clinical tests have also proven the excellent effects of Ching Chun Bao. In general, middle-aged or old persons will have an evident self-felt sensation of youthfulness if they take it in succession for two to three months and all their vigor, strength, memory, and thinking will remarkably be improved as if they were a dozen years younger. Some women at the age when menstruation has paused for a half year have unexpectedly got their menstruation resumed after three months. This is also enough to prove the excellent affect of Ching Chun Bao on the promotion of endocrine.
As Ching Chun Bao anti-aging tablets are a slow mild tonic prescription which is prepared from mild Chinese tonic herbs, this formula take evident effect only when the user persists in taking for two to three months: Strengthening the brain, enhancing memory and ability to analyze problems, promoting the soundness of sleep, decreasing dreams and offering the user an evident self-felt sensation of health and vigor; helping resist fatigue, extending the time for doing work effectively, keeping the user full of strength and enhance his or her resistance against chills and sweltering heat.
* The above statement has not been evaluated by the Food and Drug administration. This Product is not intended to diagnose, treat, cure or prevent any disease.
通用名称:青春宝--抗衰老片
汉语拼音:qing chun bao
包装规格:每瓶装80片,片芯重0.3克
主要成分:红参、灵芝、生地黄、天冬、山药、杜仲、杏仁、巴戟天、肉苁蓉。
功能与主治:延缓衰老,润肤美颜,提神醒脑,增强活力,强壮机能,延年益寿。用于中、老年体弱者因气阴两虚所致的神疲乏力、心悸气短、少气懒言、头晕目眩、潮热盗汗、耳鸣健忘,烦燥失眠。中、老年人常服,可增强体制,提高免疫力,却病延年。青年人服用,保持体力充沛,精神旺盛。
服法与用量:口服,一次3~5片,一日2次。
本品根据明朝永乐太医院的宫廷用方研究制成。主要功能有益气补血,养阴生津,增强体质,延缓衰老。有健脑安神、增强思维活力作用。 有抗疲劳作用,能保护精力充沛,增强人体对环境的适应能力。 提高人体免疫功能,增强抗病能力。 增加心脏功能、改善心肌营养,能延缓冠心病的形成和发展。
本品特点是补气,阴阳双补,既温肾填精,又清肺降火,滋阴、生津、润燥。是理想的抗衰老、延年益寿产品。