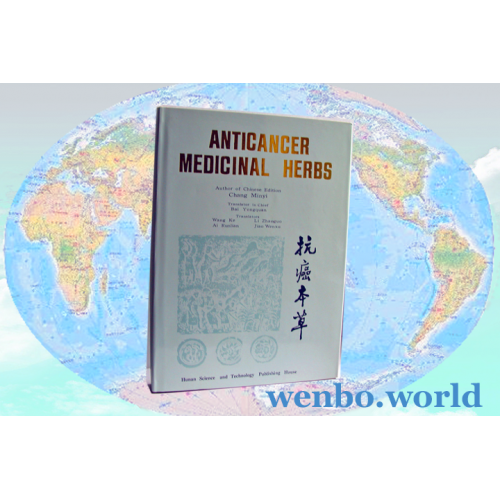 Anticancer Medicinal Herbs
Brand: Product of China
Product Code: 1992hc
Reward Points: 250
Availability: In Stock
$49.99

Price in reward points: 4999
by Chang Minyi. This book introduces the practical value of anticancer herbs and herbal prescriptions used commonly both at home and abroad.
Title: Anticancer Medicinal Herbs (English edition)
Author of Chinese Edition: Chang Minyi
Translator in Chief: Bai Yongquan
Hunan Science & Technology Publishing House, 1992
Hardcover
ISBN 7535710239
Longhua Hospital of Shanghai Traditional Chinese Medical College treated 300 cases of primary cancer simply with medicinal herbs and the total effective rate was found to be 51%, with the longest survival period being 11 years. Judged by pathological classification and observation at different stages, squamous cancer had the highest effective rate - 55.86%. In addition, the hospital selected 60 patients with advanced squamous cancer and randomly divided them into two groups of 30 patients, a group treated with traditional Chinese medicinal herbs and a group treated with chemotherapy. The survival period of the herbal group was 465 days while that of the chemotherapeutic group was 204 days, and the survival rates after 12 and 24 months were 66.7% and 13.3% for the herbal group and 33.3% and 3.3% for the chemotherapeutic group respectively, according to a report in Journal of Integrated Western and Traditional Chinese Medicine Vol 2, 1985.
In this book, Dr Chang Minyi introduces 236 kinds of herbs that have been carefully selected in the light of the scientific standard, and describes the practical value of anticancer herbs and herbal prescriptions used commonly both at home and abroad. He developed a complex prescription known as the "Anticancer Single Blade Sword" which has been administered to over 5,000 patients since 1981. Most of the patients who had taken the prescription have commented that it is definitely effective in relieving the pain caused by cancer and improving the condition and the survival period of the patients. Dr. Chang has included his theory of and experience with the Anticancer Single Blade Sword in the book. This has increased the substantial contents for popularization and improvement of the prevention and treatment of tumors with traditional Chinese medicine. It really provides good reference for medical personnel who are engaged in teaching, research, prevention and treatment of cancer, and for cancer patients and their relatives.