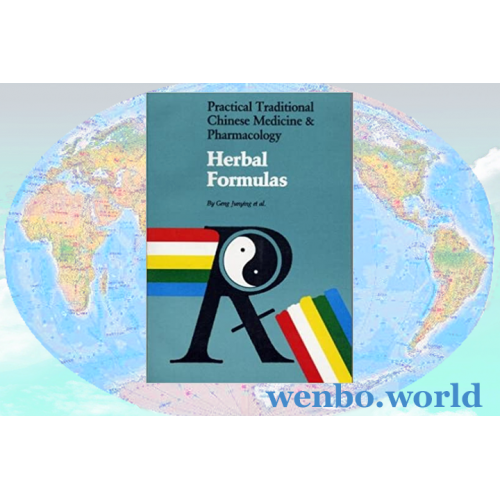 Herbal formulas
Brand: Product of China
Product Code: 1997pb
Reward Points: 100
Availability: In Stock
$19.99

Price in reward points: 1999
138 most effective and commonly used formulas in Chinese medicine are introduced in this book. It does not merely list each formula's functions, indications, applications and herbs to be used, but also provides charts and detailed analyses of the causes and physical manifestations of the symptoms each formula is effective for and the curative contribution of each individual herb.
Title: Practical Traditional Chinese Medicine and Pharmacology: Herbal Formulas
By Geng Junying et al. English Translation
New World Press, 1997
Language: English
Paperback, 152 x 222 mm, 259 pages
ISBN 7800051188
Formula modifications are included to account for symptoms variation. The Formulas in this book do not appear therefore as incomprehensible combinations of individual herbs rather as models of perfect integration between basic TCM theories and knowledge of medicinal herbs. In illustrating the internal working relationship of the herbs in each formula, this book enables the reader to learn how to make prescriptions on their own.
A study of the formulas presented here will yield a better understanding of the theories and how to apply them in terms of mapping out treatment strategies and identifying herbal prescriptions for a particular disease. Formulas are grouped by malady. Within each group, the various formulas are introduced. The following organization is adhered to throughout the book in order to facilitate reference.
Each formula begins with a listing of its constituents, which includes the component herbs, their common names and Chinese pinyin names, as well as the quantities of each herb required.
Method used section describes briefly how the formula is prepared.
The functions the herbal formula performs are then listed succinctly.
The indications section defines the conditions in terms of the language of traditional Chinese medicine for which the herbal formula is applicable.
The symptoms of the condition are listed next in the manifestations section.
The Explanation section explains how the condition affects the patients qi, channels and collaterals, blood, body fluids, etc.
The herbs and actions section groups the herbs according to the role they play in creating the overall effect of the formula.
The applications section uses Western medical terminology to identify specific maladies against which the formula has proven effective.
Adjustments to the formula occasioned by special symptoms are presented in the modifications section.