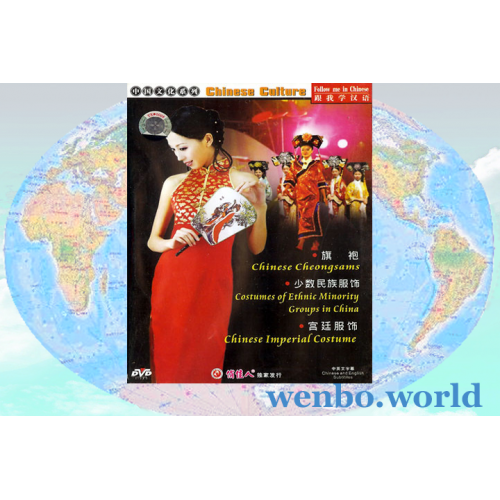 Costumes of Ethnic Minority Groups, Chinese Imperial Costume, Chinese Cheongsams
Product Code: CNF280600700
Reward Points: 100
Availability: In Stock
$14.95

$9.99

Price in reward points: 999
Chinese Culture: Costumes of Ethnic Minority Groups in China; Chinese Imperial Costume; Chinese Cheongsams
Costumes of Ethnic Minority Groups in China
The history of human dress, in a sense, is the history of human civilization. In China, this human civilization is contributed jointly by the 56 nationalities of the country. In this documentary, the costumes of 13 representative minority nationalities are demonstrated, focusing on their color, pattern, design and the materials used, which provides you a mosaic colorful dress world.
Chinese Imperial Costume
This documentary diachronically records the development of court dresses in ancient China, focusing on its particular design, color and the influence it has on modern dress design.
Chinese Cheongsams
In this documentary, Shanghai is the center of fashionable dress of the day. Chinese Cheongsams popular in the 1920s to 1940s will be revealed to the audiences one by one. The workmanship of polished Chinese Cheongsams, fens of different kinds of Chinese Cheongsams worn by people lo different times and the natural humanity demonstrated by Chinese Cheongsams will fully displayed to you in a limited time of 30 minutes.
Published by Guangzhou Audio-Visual Publishing House, 2006
Medium: 1 DVD-5
DVD regional code setting: All
Picture format: NTSC, MPEG-2, Color
Soundtrack: Chinese
Subtitle: Chinese-English
Running time: 89 minutes
ISBN: 7885184420 / 9787885184421
ISRC: CNF280600700
EAN: 6937475383199
商品名称:《中国文化系列—少数民族服饰、宫廷服饰、旗袍》
出版社:广州音像出版社,2006
介质:DVD5
碟数:1
字幕:中英文
ISBN 7-88518-442-0
ISRC CN-F28-06-0070-0/V.G2
少数民族服饰
一部人类服饰史,从某种意义上说,也是一部感性化了的人类文化发展史,在中国,这部感性的人类发展史是由56民族共同完成的。本片选取 了十三个富有代表性的中国少数民族服饰,通过介绍这些民族的服饰特点来展现中国多彩的服饰文化。
宫廷服饰
本片以时间为线索,详细的记录了中国两千多年来宫廷服饰的演变过程,着重介绍了宫廷服饰中有特殊含义的图案和颜色以及古代宫廷服饰对现代服装设计的影响。
旗袍
本片中以当时的时装流行中心上海为主线,把中国20世纪的20年代、40年代到今天的各式旗袍逐一介绍给观众。片中关于旗袍精良的制作工艺过程、几十款不同时期的旗袍的万千风情、自然人文的表露。让您在30分钟里充分领略中国旗袍的风采。