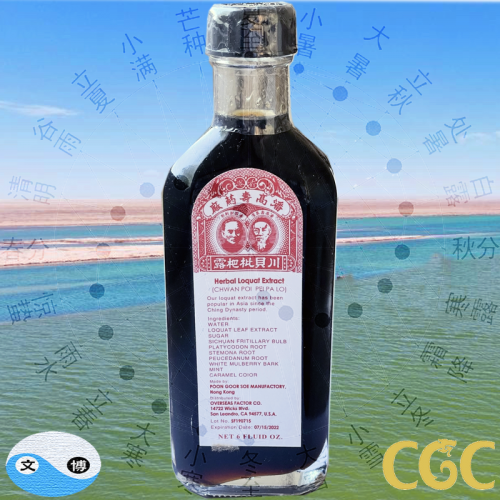 Natural Herb Loquat Extract
Product Code: 1x180ml
Reward Points: 80
Availability: In Stock
$7.99

Price in reward points: 799
very effective natual cough suppressant (cough syrup,) for use when traditional lozenges are not sufficient. It is recommended for pediatric care of children who get sick with symptoms of cold and flu pandemic, asthma.
Product label: Nautral Herb Loquat Extract
Packing: 6 Fl. Oz. fluid in glass bottle
Product of Hong Kong
Ingredients:
Loquat Extract
Almond Extract
Lotus Root (fritillaria bulb)
Licorice
Mint Flavor
Water
Honey
Actions: Soothes the sore and irritated throat, relieves coughs, loosens phlegm.
Indications: Use for coughs due to cold, flu, acute and chronic bronchitis, asthma, bronchiolitis.*
Directions: take two teaspoonfuls each time, about 10 ml, 3 times a day, or more often if needed.
Notes: Natural Herb Loquat Extract is a product of Hong Kong. The Chinese brand name, Poon Goor Soe (in mandarin Pan Gaoshou) is the name of the product's developer, the elderly gentleman pictured on the box cover (his assistant is pictured next to him). On the package (under the portraits, is the original Chinese name of the formula, Chuanbei Pipa Lou, which translates to Fritillaria and Loquat Syrup. This formula has been made for decades and enjoys an international reputation for quality and effectiveness. The main ingredient of the extract formula is loquat, for which the leaf and fruit are considered very useful in treating coughs and moistening dryness. The extract includes fritillaria bulb, which clears heat, moistens the lung, and sends down the upward adverse flow of qi.
*This statement has not been evaluated by the Food and Drug Administration. This product is not intended to diagnose, treat, cure or prevent any disease.
Under the current mail restriction, certain goods are prohibited from transportation by air (eg. liquids in glass containers). This item can't be shipped to any countries by air. Only US domestic ground /surface service is available.
通用名称:川贝枇杷露
商品品牌:香港潘高寿
汉语拼音:chuanbei pipa lu
包装规格:每瓶180毫升,大约可服18次
主要成分:平贝母、枇杷叶、水半夏、桔梗、薄荷脑。
功能与主治:清热化痰、宣肺止咳。主要适用于发热、痰黄的咳嗽。用于感冒、气管炎引起的咳嗽,尤其对风热犯肺和痰热壅肺所引起的咳嗽,疗效更为理想。不仅能够治疗咳嗽、咯痰等症状,而且还能够缓解由于感冒、支气管炎引起的发热、胸闷、口渴、咽痛等一系列症状。
服法与用量:口服,1-2岁,每日两次,每次1/4茶匙;2-5岁,每4-6小时1次,每次1/4茶匙;6-12岁,每4-6小时1次,每次1/2茶匙;成人每4-6小时1次,每次1茶匙。潘高寿治咳川贝枇杷露以贝母和枇杷叶为主药,配合水半夏、桔梗、薄荷脑等辅助药材,整个药方药性平和、相辅相成,从而达到了清热化痰、宣肺止咳的功效。实验表明,潘高寿治咳川贝枇杷露不仅镇咳、祛痰、平喘,还具有抗炎、消炎的作用,在临床上得到了广泛的应用。