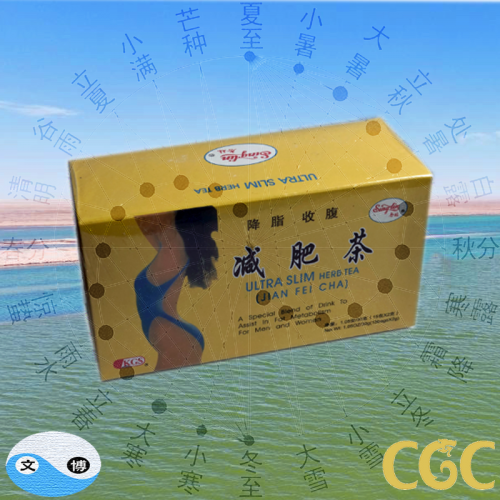 Ultra Slim Herb Tea
Brand: Singlin
Product Code: 1x15bags
Reward Points: 20
Availability: In Stock
$3.99

Price in reward points: 399
aid in fat metabolism for men and women, and prevent hyperlipidemia. It's specially formulated with Oolong tea and hawthorn, all natural herbs which can be used as additives to an overall weight loss program, dieters' tea. Without any other additives, enjoy this smooth, delightful, and reliable drink, the gift of mother nature.
Product label: Ultra Slim Herb Tea
(Jian Fei Cha)
Packing: 15 tea bags (2 g each) / box
Product of China
Ingredients:
Oolong tea
Chinese Senna (seed)
Chinese hawthorn (fruit)
Chinese yam (rhizome)
Chinese licorice (root)
Chrysanthemum (flower)
Actions: Fortifies the spleen and quickens the blood, loses more body fat and keeps body optimally healthy.
Indications: Use as Dieters' tea, use as adjunct to overall weight loss plan.*
Directions: Pour fresh, bubbling boiling water over 1 teabag. Steep for 5 minutes and serve.
Caution: Do not use during pregnancy.
*This statement has not been evaluated by the Food and Drug Administration. This product is not intended to diagnose, treat, cure, or prevent any disease.
通用名称:降脂收腹减肥茶
汉语拼音:jian fei cha
包装规格:15小包/盒
主要成份:乌龙茶、决明子、山楂、山药、菊花。
功能与主治:消除体内多余脂肪,活血,健脾,对减肥有帮助。适宜单纯性肥胖人群。
服法与用量:一次用一小包浸泡。