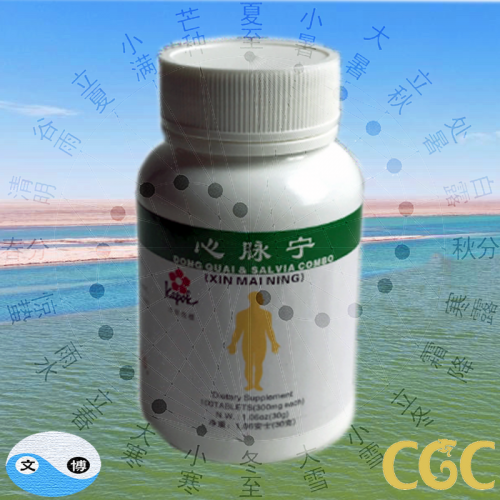 Dong Quai & Salvia Combo
Brand: Product of China
Product Code: 1x100tbs
Reward Points: 80
Availability: In Stock
$7.99

Price in reward points: 799
useful to alleviate headache and chest pain of hypertension and hyperlipidemia (high cholesterol), yin deficiency, hyperactivity of liver yang, CHD with deficiency of heart blood and interior blockage of blood stasis. Active herbal properties nourish yin and calm the liver, promote blood circulation to remove blood stasis and dredge collaterals to relieve pain.
Product label: Dong Quai & Salvia Combo
Used name: Cardyherb Formula
Packing: 100 tablets / bottle
Product of China.
Ingredients:
Dong quai (root)
Achyranthes (root)
Japanese sophora (flower)
Sickle-pod senna (seed)
Chinese salvia (root & rhizome)
Pubescent holly (root)
Uncaria rhynchophylla (stem)
Kudzu (root)
Heal all (fruit spike)
Tienchi ginseng (root)
Actions: Activating blood circulation and removing blood stasis, strengthening pulse beat and nourishing heart.
Usage: Oppression in the chest, palpitation, dizziness, headache, and pain in the neck caused by qi stagnation and blood stasis; angina pectoris of coronary heart disease, high blood lipid, hypertension and arrhythmia, post-ischemic stroke manifested as above.*
Directions: Take 4 tablets 3 each time, times a day.
*These statements have not been evaluated by the Food & Drug Administration. This product is not intended to diagnose, treat, cure or prevent any disease.
通用名称:心脉宁
汉语拼音:xin mai ning
包装规格:每瓶100片,每片0.3克
主要成分:当归、牛膝、丹参、槐花、田七、毛冬青、夏枯草、葛根、决明子、钩藤。
功能与主治:活血化瘀,通脉养心。有降低血脂及血压功效,对防止血管硬化有效。用于气虚血瘀,症见头晕目眩、胸闷心痛、心悸气短;缺血性中风恢复期、冠心病心绞痛见上述症候者。
服法与用量:口服,一次4片,一日3次。