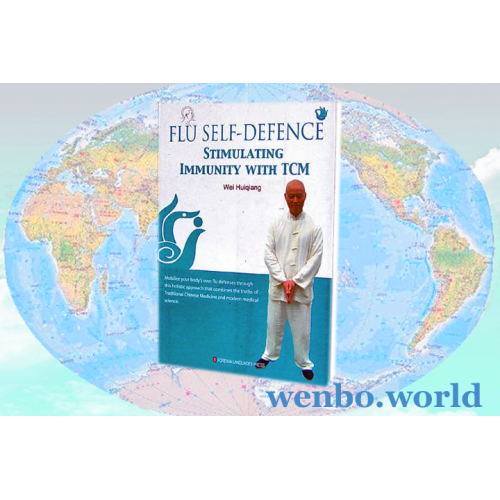 Flu Self-defence Stimulating Immunity with TCM
$19.95

Price in reward points: 1995
Mobilize your body's own flu defence through this holistic approach that combines the truth of Traditional Chinese Medicine and modern medical science.
Title: Flu Self-Defence Stimulating Immunity With TCM
By Wei Huiqiang
Published by Foreign Languages Press, Feb 2010
Paperback, dimensions 210 x 297 mm, 1 volume, 150 pages
ISBN: 9787119061306
The New TCM Anti-Flu Therapy is an economic, non-drug approach to flu prevention and treatment. Conforming to life science principles, it could be especially valuable in the context of a serious global flu epidemic and the rapid mutation of flu viruses. Observing the outcome of 30 years of clinical practice, and in line with the holistic New Century Medical Model, this alternative method of preventing and treating flu stresses the patient's active involvement, activating the body's innate flu defenses through clearly described and illustrated self-massage and other techniques. It is readily adaptable to the patient's individual circumstances.
The new century medical model pioneered by Wei Huiqiallg is a holistic approach uniting the biological, social and psychological aspects of health with the fundamental TCM theory of "Unity of Heave and Man." Where other approaches stress doctor-applied solutions, Wei Huiqiang mobilizes the patient's active involvement with self performed massage and other activities in combination with doctor-applied treatment.
Typical of Wei Huiqiang's innovative approach are his simple apparatus and non-drug technique directly killing flu viruses, addressing the major problem of flu viruses, namely their ability to rapidly mutate and become vaccine and drug resistant. In addition to their value in combating flu, many of Wei Huiqiang's suggestions have considerable benefits in the area of general health, youthfulness and wellbeing.
About the author: Wei Huiqiang (1941 - ) is a highly experienced practitioner and chief physician, noted for his expert knowledge of massage, acupuncture and moxibustion, daoyin exercise, traditional Chinese medicine cosmetology, non-traumatic acupoint therapy and medical futurology. He is currently Executive Director of the Cosmetology Association under the World Federation of Chinese Medicine Societies, chief expert of Traditional Chinese medical Experts Board under China Medical Women's Association.
Contents:
FOREWORD
Chapter 1 OVERVIEW OF THE NEW TCM ANTI-FLU THERAPY
1.1 A New Era in the Fight Against Flu
1.2 Brief History of the New Therapy
1.3 Exploring the Mechanisms of the New TCM Health Therapy
1.4 Main Features of the New Therapy
1.5 Points to Note
1.6 Common Techniques of the Therapy
1.7 Location of Acupoints
1.8 New Exercises for Preventing the Common Cold
1.8 New Exercises for the Nose
1.10 New Exercises for the Mouth
1.11 New Exercises for the Neck
1.12 How to Strengthen the Chest and Defend Against Cancer
1.13 New Self-Massage for Improving Immunity
Chapter 2 NEW TCM ANTI-FLU THERAPY
2.1 Treating the Root Cause and Symptoms with a Hair Drier
2.2 The Simple and Effective Moxa-Stick Massage Method
2.3 The Cupping Method for Prevention and Treatment
2.4 The Scientific and Effective Method of Salt-Pack Massage
2.5 Effective Daoyin Exercise for Preventing and Treating Flu and Delaying Ageing
Chapter 3 FLU AND THE NEW CENTURY MEDICAL MODEL
3.1 The Need for an Improved Biopsychosocial Medical Model - Ideas and Exploration of New Century Medical Model
3.2 Preventing Flu
3.3 Treating Flu