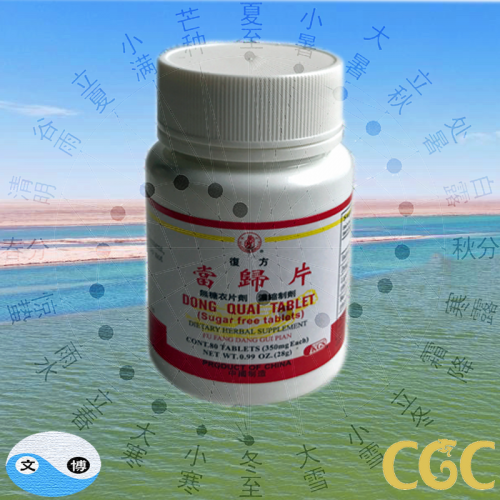 fu fang dang gui pian (Dong Quai Tablet)
$6.99

Price in reward points: 599
use for delayed menstruation, scanty menstruation, pale complexion, dizziness, dry skin, hair, and nails, pertaining to blood asthenia or blood stasis syndrome. It's formulated with Chinese Angelica, Ligusticum wallichii, Bai-zhu atractylodes, and Jujube fruit, supplementing to enrich Blood, promote Blood circulation, and relieve dryness (in cases of constipation due to Blood deficiency).
Product label: Dong Quai Tablet (Sugar Free)
Packing: 80 tablets / bottle
Product of China.
Ingredients:
Dong quai (root)
Ligusticum wallichii (rhizome)
Bai-zhu atractylodes (rhizome)
Jujube (fruit)
Actions: Invigorates qi and enriches blood, promotes blood circulation, regulates menstruation and alleviates pain.
Indications: Use for syndrome of qi and blood deficiency, manifested as menstrual disorders (scanty period, irregular period, or lack of period), poor memory, fatigue, dry skin, hair and nails, probably constipation. It is applicable to menstrual disorders, blood stasis after parturition and dysmenorrhea, endometriosis, female sterility, secondary sterility, which pertain to qi stagnation and blood stasis.
Directions: Take 3-5 tablets each time, 3 times a day.
Cautions: Do not use during pregnancy.
*These statements have not been evaluated by the Food & Drug Administration. This product is not intended to diagnose, treat, cure or prevent any disease.
通用名称:复方当归片(无糖衣)
汉语拼音:fufang danggui pian
包装规格:每瓶80片

主要成分:当归、川芎、白术、大枣。

功能与主治:补养气血,调经止痛。适用于气血虚弱引起的面色萎黄,眩晕心悸,月经不调,痛经。

服法与用量:口服,一次5片,一日3次。