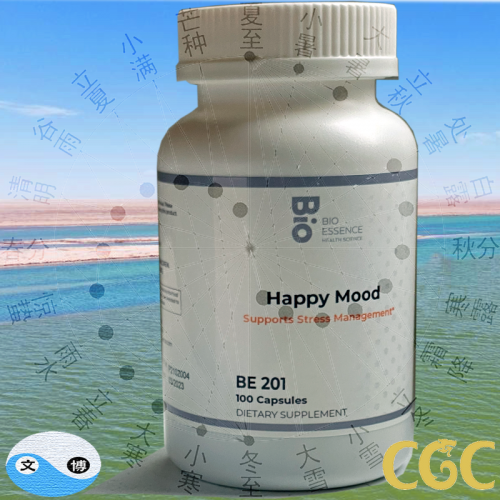 Happy Mood
Product Code: 1x100cps
Reward Points: 300
Availability: In Stock
$29.99

Price in reward points: 2999

---

12 or more $28.49
It's helpful for mental health to alleviate insomnia, depression and anxiety, that is a natural herbal product based on the experimental formula created by Jin Fang, Lac in New York State, who prescribed for depressed students of Cornell University and Ithaca College 14 years ago.
Product label: Happy Mood
Packing: 100 capsules per bottle
Made in USA
Ingredients:
Suan Zao Ren (Ziziphus)
Wu Wei Zi (Schisandra)
Bai Shao (Peony)
Huang Qi (Astragalus)
Shi Chang Pu (Acorus)
Gan Cao (Glycyrrhiza)
Chai Hu (Bupleurum)
Mai Meng Dong (Ophiopogon)
Chen Pi (Citrus Skin)
Shan Zhu Yu (Cornus)
Dang Gui (Angelica)
He Huan Pi (Albizia).
Actions: Promotes the flow of qi, harmonizes the the liver and spleen, nourishes the heart and kidney.
Indications: It is helpful to people in stress, depression, and anxiety.*
Usage Direction
Flexible usage: for good sleep, take 3 capsules before going to bed; for other symptoms, take one capsule in the morning, one at lunch (optional), and another at night (optional). Patients can cut down when symptoms are improved. There is no lifetime dependency. Age group is from 8 years old to 88 years old.
Multiple usages: Happy Mood is also helpful to quit smoking. It helps alleviate generalized anxiety disorder; it can also combine with other pain medication or with fibromyalgia treatment to maximize the result for your patient. If patient has severe clinical depression, please have your patient consult with his or her physician before taking Happy Mood.
*These above statements for herbal & nutritional supplements have not been evaluated by the Food & Drug Administration. These products are not intended to diagnose, treat, cure or prevent any disease or disorder.
快乐心情抗忧郁草药方
每瓶装100粒胶囊
美国制造
主要功能与应用:增强记忆,改善心情,抗忧郁症,安眠。有助于学生注意力集中复习考试。有助于戒烟。有助于痛症的治疗。