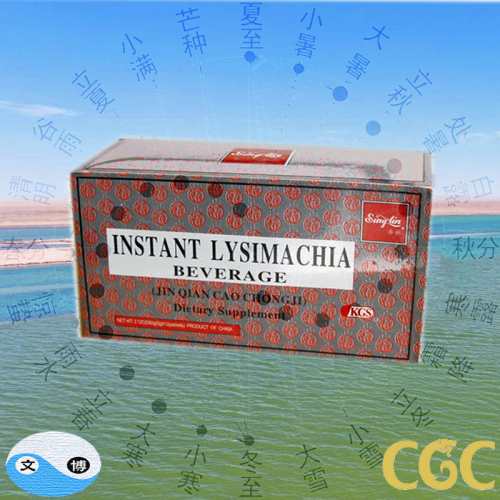 Jin qian cao chongji Instant Lysimachiae Beverag
Brand: Xing Ling
Product Code: 2x12bags
Reward Points: 100
Availability: In Stock
$9.99

Price in reward points: 999
used for painful urination, difficult urination, urinary tract infection, urinary duct and bladder, nephritis, edema, etc. The pure herbal remedy is formulated with the whole herb of Lysimachia christinae Hance and Tienchi ginseng flower that are mainly used to clear away heat and toxicity, promote urination and reduce swelling.
Product label: Instant Lysimachiae Beverage
(Jin Qian Cao Chong Ji)
Packing: 12 packets (10g each) / box, 1 bundle of 2 boxes for sale
Product of China
Ingredients:
Lysimachiae (above ground parts)
Tienchi ginseng (flower)
Actions: Clears heat, and relieves swelling, induces diuresis, dispels dampness and remove toxins.
Indications: Commonly used in cases of dampness-heat type jaundice. It also used for difficult urination, especially suitable for stones in urinary system or infection of the liver and gallbladder. It is helpful to treat infection and stone of the kidneys, urinary duct and bladder, gallbladder stones, nephritis, edema, etc.*
Directions: Take 1 bag each time, 2-3 times a day.
*These statements have not been evaluated by the Food & Drug Administration. This product is not intended to diagnose, treat, cure or prevent any disease.
通用名称:金钱草冲剂
汉语拼音:jin qian cao
包装规格:每盒12袋,每袋10克
主要成分:金钱草、田七花等。
功能与主治:清热消肿,利尿祛湿。用于膀胱湿热之热淋、石淋、淋沥涩痛之证。现代多用于尿路感染、尿路结石及肾绞痛等。
服法与用量:10g/袋,开水冲服,l一2袋/次,3次/日。