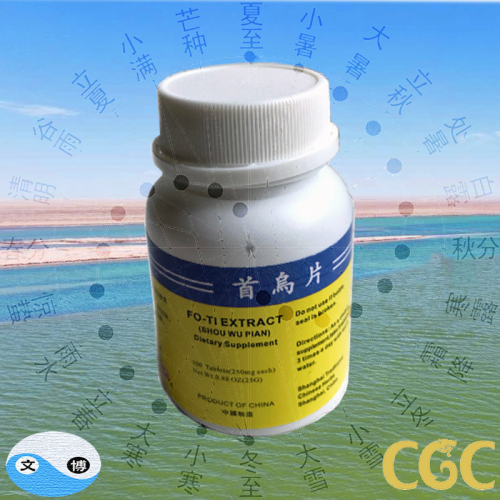 shou wu pian (Fo-Ti Extract)
$59.99

Price in reward points: 5999
for liver and kidney deficiency, dizziness, tinnitus, backache, limb numbness, early white hair, hyperlipidemia, constipation of blood deficiency in the elderly. This tablet is made of the prepared Polygonum multiflorum which is classified one of common used blood replenishing drugs in Chinese traditional medicine, as well as a top age delaying formula for nourishing liver blood, replenishing the kidney qi and strengthening sinews and bones.
Product label: Fo-ti Extract
(Shou Wu Pian)
Packing: 100 tablets per bottle, 250 mg per tablet, sugar free; 1 bundle of 10 bottles for sale.
Manufactured by Shanghai Chinese Herbal Works, China
Ingredients: Foti (dried root tuber)
Actions: Nourishes liver blood, tonifies kidney qi and kidney jing, strengthens sinews and bones.
Main indications: Use for chronic deficiencies of liver blood, affecting vitality, or menstruation. Useful to counters liver fire due to deficiency, with accompanying symptoms of headaches, eye pain, dizziness. It benefits lower back and joint aching due to weak kidney.*
Directions:
Take 5 tablets each time, 3 times a day, continuously three months or longer.
For hyperlipidemia, take 5 tablets each time, three time a day, continuously three months.
Notes: Shou Wu Pian is a natural herbal supplement made of 100% herb, "Huo Shou Wu" (the prepared Polygonum multiflorum, or radix polygoni). The prepared fleeceflower root is made by boiling with a decoction of black beans until the decoction is entirely absorbed into the fleeceflower root, being commonly used in traditional Chinese herbal formulas, commonly used in Chinese to keep hair from graying. It is used for nourishing liver blood, replenishing the kidney qi and strengthening sinews and bones.
In addition to its nourishing quality, he shou wu has demonstrated effectiveness in lowering blood cholesterol levels and inhibiting the pathogens that cause tuberculosis and malaria.
* The above statement has not been evaluated by the Food and Drug administration. This Product is not intended to diagnose, treat, cure or prevent any disease.
通用品名:首乌片
包装规格:片剂,片心重0.25克,相当于制何首乌0.8克;100片瓶装。
主要成份:制何首乌、何首乌浸膏。
功能与主治:益精血,补肝肾,强筋骨,乌须发。用于肝肾两虚、头晕目花、耳鸣、腰酸肢麻、须发早白、高血脂症、老年血虚便秘。
用法与用量:口服。每次5片,一日3次,温开水送服。
注意事项:忌食辛辣刺激性食物。脾胃虚弱者慎用本品。
首乌片为现代研制中成药,是一种物美价廉的老药。该药传统应用于肝肾两虚所引起的头晕目眩,耳鸣耳聋,腰酸腿软,须发早白,面色萎黄等病症。
近年来发现,首乌片对下列疾病也有较好疗效:
1、高脂血症:首乌片,每次3~5片,每日早、中、晚各服1次,连服3个月。可降低胆固醇和低密度脂蛋白。
2、扁平疣:首乌片每次5片,每日3次内服。需连续服用1个月以上,切勿间断服药或半途而废。
3、脂溢性脱发及脂溢性皮炎:口服首乌片每次5片,每日两次。治脂溢性脱发,连服3个月后,均见脱发停止,毛发有不同程度的再生。治干性脂溢性皮炎,服药1周后,大部分患者的鳞屑显著减少,瘙痒减轻。
4、老年性皮肤瘙痒症:首乌片每次5片,每日2-3次内服。一般服药后全身瘙痒均有不同程度减轻,两周后瘙痒开始逐渐消失。