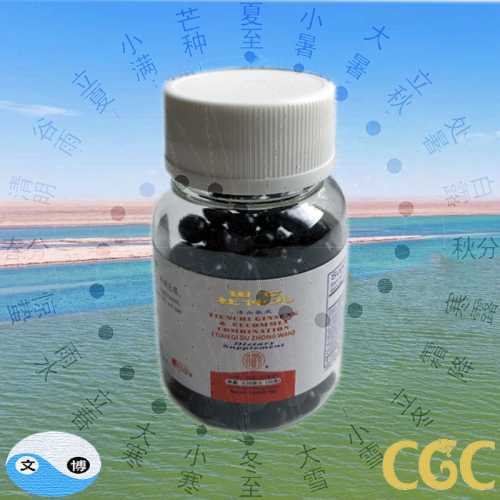 Tienchi Ginseng & Eucommiae Combination
Brand: Zhen He Tang
Product Code: 1x100pills
Reward Points: 60
Availability: In Stock
$5.99

Price in reward points: 599
relieve pain in cases of syndrome of blockage of stagnant blood, arthralgia due to pathogenic wind-dampness. This patent remedy bases on the Tian Qi Du Zhong Wan" (Radix Notoginseng & Cortex Eucommiae Pills) is used for promoting blood flow to remove the stasis, dispelling wind and dredges meridians.
Product label: Tienchi Ginseng & Eucommiae Combination
(Tian Qi Du Zhong Wan)
Packing: 100 concentrated pills bottle.
Manufactured by Natural Health Care Enterprise Guangzhou, China.
Ingredients: Pseudo ginseng root (Panax pseudo ginseng), Eucommiae Bark (Eucommia ulmoides Oliv), Ginseng root (Panax Ginseng), Fragrant Resin (Boswellia carterii Birdw), Duhuo root (Angelica pubescens Maxim), Connamon Bark (Cinnamomum Cassia)
Actions: Quickening the blood and transforming stasis, dispelling wind and quickening the network vessels.
Indications: Use for wind-damp bone pain, impediment and pain of limbs etc.*
Direction: As a dietary supplement, take 10 pills each time, 2 times a day as needed.
Caution: Do not use during pregnancy.
Notes: According to the herbal healing studies and practice, Pseudoginseng and Eucommiae both have properties to promote circulation. Herbalist blended these two herbs by using the latest techniques designed to preserve the original state of active compounds while ensuring the utmost quality. It helps you to cope with the nuisance painful discomfort due to the changing season and maintain skeletal function and a healthy circulatory system.
*These statements have not been evaluated by the Food & Drug Administration. This product is not intended to diagnose, treat, cure or prevent any disease.
通用名称:田七杜仲丸
汉语拼音:tian qi du zhong wan
包装规格:每瓶l00粒浓缩丸
主要成分:田七、人参、独活、杜仲、乳香、肉桂。
功能与主治:祛风活络,活血化瘀。用于风湿性骨痛,手足痹痛等症。
服法与用量:口服,一次l0丸,一日2次。