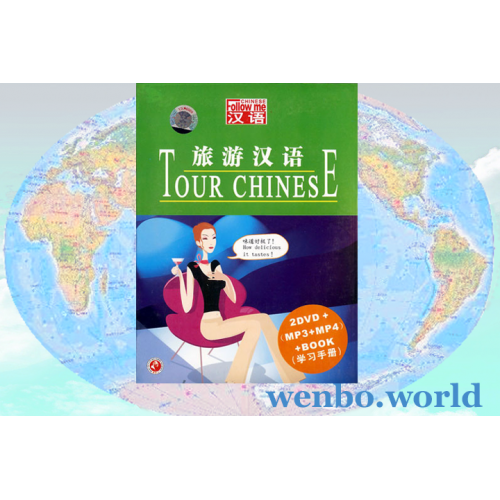 Tour Chinese - Follow me in Chinese
Product Code: dv-tou-ch-f
Reward Points: 500
Availability: In Stock
$49.99

Price in reward points: 4999
The lesson consists of situational dialogues and key sentences. 6 lessons:
At the Airport
At the Railway Station
At the Bus Stop
At the Hotel
At the Restaurant
At the Disney Park
Book title: Tour Chinese - Follow me in Chinese
Published by Qilu Electronic Audio-Visual Publishing House, 2007
Media: 2 DVD-5, 1 MP3/MP4, 1 BOOK
DVD regional code setting: All
Picture format: NTSC, MPEG-2, Color
Language: Chinese
Translation: Chinese and English
ISBN: 7884088134 / 9787884088133
ISRC: CNE220703370
EAN: 6937475392283
The "Follow me in Chinese Coach" has other programs: Common Chinese; Proprieties Chinese; Business Chinese; Campus Chinese; Daily Chinese.
This program is geared to those Chinese language learners by focusing on their substantial competence of communication in Chinese through the most common and basic modern language in real situation in which the learners will find it easy to learn those basic dialogues and communicate with Chinese in daily life. What features this program is that it attaches to the combination of communicative competence and grammatical construction teaching before the learners take on further learning.
商品名称:《旅游汉语》
出版社:齐鲁电子音像出版社,2007
介质:2 DVD + 1 CD + 1 BOOK
字幕:中英文
ISBN:7-88408-813-4
ISRC:CN-E22-07-0337-0/V.G
6937475392283
21世纪以来,随着中国经济的强劲以及国际地位的提高,越来越多的跨国大公司和各国人们来中国投资、经商、旅游。汉语日益重要,是未来的国际"通行证"。学会汉语不但能够与中国人交朋友,而且可以找到好工作,更好地在中国旅游和经商。本套节目简捷易学,内容丰富,能够帮助您较快地学会实用汉语,做到与中国人沟通的目的,是一套不可多得的学习汉语大全!
常用汉语
礼仪汉语
旅游汉语
商务汉语
校园汉语
生活汉语
目录
1. 在机场
2. 在火车站
3. 在车站
4. 在旅馆
5. 在餐馆
6. 在迪斯尼乐园