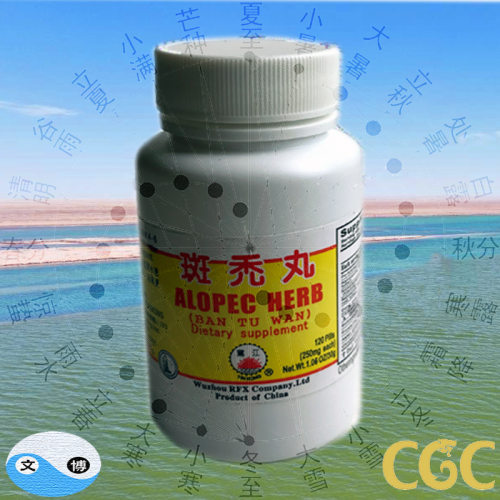 Alopec Herb
Brand: Yin Kong
Product Code: 12x120pills
Reward Points: 400
Availability: In Stock
$89.99

Price in reward points: 7999
for hair loss, supplement to nourish the blood, replenish Qi and promote circulation, supply nutrients for all your hair needs. This nourishes two organs of human bodies that are known to help the growth of healthy body hair: the kidneys and the liver.
Product label: Alopec Herb Formula
(Ban Tu Wan)
Packing: 120 pills (30 g) / bottle, 1 bundle of 12 bottles for sale
Manufactured by Guangxi Wuzhou Ying King, China
Ingredients: Radix palygonl muliflori, Rehmannia Glutinosa, Radix et Rhizoma Rehmannia, Radix Angelicae Sinensis, Radix Salvia Mittorhiza Bge, Radix paeoniae Lactiflorae, Fructus Schixandrae, Ginseng, Fructus chaenomells, Rhizoma Notopterygli
Actions: Enriching the liver and kidney, nourishing the blood and quieting the spirit, supplementing qi and engendering hair.
Indications: Use for alopecia areata, general alopecia, baldness, seborrheic alopecia, alopecia due to the blood vacuity, alopecia after childbirth or after a serious disease.*
Directions: As a dietary supplement, take 4 to 6 pills 3 times a day with warm water. For the best result, take it for 3-4 months.
Caution: Do not use during pregnancy.
*This statement has not been evaluated by the Food and Drug Administration. This product is not intended to diagnose, treat, cure, or prevent any disease.
通用名称:斑秃丸
汉语拼音:ban tu wan
包装规格:120粒/ 30克/瓶
主要成分:熟地黄、地黄、制何首乌、当归、人参、杭菊、五味子、丹参、羌活、木瓜。
功能与主治:滋补肝肾,益精补血,温经通脉,袪风生发。适用于斑秃、全秃、普秃、精神性脱发、肾虚、预防脱发。
用法用量:每日服用三次,每次6粒,每瓶可服用6天,12瓶为一个包装;三个月为一个疗程。
一般斑秃只需1-2个疗程,全秃约需2-4个疗程,普秃约需4-6个疗程。
斑秃生发丸药理:滋补肝肾,益精补血,温经通脉,袪风生发,改善生理功能,有效改善头部微循环状态,激活毛囊母细胞活力。从而使毛囊重新恢复其功能 以吸收所需养分,达到头发再生。从根本上治疗:脱发、斑 秃、全秃、普秃等多种脱发症状,达到彻底治愈。服药期间生活如常、饮食无须禁忌;纯中药制剂、配方得宜、无任何毒副作用;疗效短、见效快;治愈率高、不复 发。