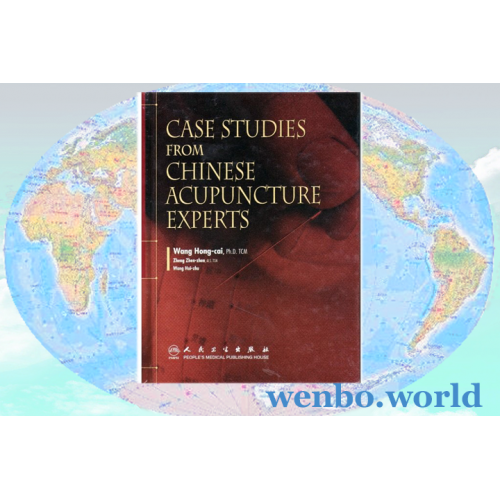 Case Studies from Chinese Acupuncture Experts
Brand: Product of China
Product Code: 2009hc
Reward Points: 200
Availability: In Stock
$39.99

Price in reward points: 3999
This book is a collection of case studies from experienced Chinese clinical practitioners that illumine the practice of acupuncture.
Title: Case Studies from Chinese Acupuncture Experts (English)
Author: Wang Hong-Cai
Publisher: People's Medical Publishing House; 1st edition (August 1, 2009)
ISBN: 9787117118088
Format: Hardcover
Dimension: 9.3 x 6.9 x 0.9 inches, 290 pages
It consists of 150 studies, covering 70 diseases, selected on the basis of unique disease patterns as well as a solid overview of the condition. Importance is given to particular treatment records refined by expert practitioners in their approach to different diseases. Each includes the name of the contributing practitioner, descriptions of the main complaint, present medical history, observations from examination, pattern diagnosis, treatment principles, treatment points and method of stimulation, extent of therapy and outcome, and informative notes that explain the diagnosis and treatment rationale. Along with prescriptions and techniques that form a solid basis for clinical practice, readers will note new uses for commonly used points and intriguing point couplets.
For beginners this book summarizes the general method of acupuncture with clear straightforward explanations. For advanced practitioners the wisdom of the great masters in handling difficult diseases will broaden their way of thinking in clinical practice.
Features:
Clear explanations based on extensive clinical experience.
Point prescriptions for commonly seen clinical cases that every acupuncturist must know how to treat.
New uses for commonly used points, and point couplets that will expand your way of thinking about needle prescriptions.
A wide variety of conditions are treated and discussed, this book is sure to expand both your way of thinking about acupuncture and your clinical skill.
Contents
Internal diseases: common cold; cough; asthma; hypochondriac pain; epigastric pain; hiccup; abdominal pain; diarrhea; constipation; dysuria; stranguria; edema; diabetes; palpitations; insomnia; headache; dizziness (vertigo); facial pain, facial paralysis, wind stroke, low back pain, stiffneck; cervical spondylosis, migratory arthralgia; damp arthralgia; cold arthralgia; heat arthralgia; numbness of the extremities; wei syndrome; ptosis; facial spasm; tremor; liver wind stirring; epilepsy; hysteria; melancholia; impotence; hernia; prolapse of rectum
Gynecological and pediatric diseases: dysmenorrhea; amenorrhea; uterine bleeding; breast nodules; abnormal lactation; thelorrhagia; macromastia; prolapse of uterus; enuresis; mumps
Disease of eyes, ears, nose and throat: tinnitus and deafness; congestion, swelling and pain of the eye; blurred vision; myopia; visual fatigue; rhinorrhea; sore throat; toothache
Skin diseases, external diseases: erysipelas; nail-like boil; psoriasis; leukoderma; urticaria; acne; chloasma; sprain and contusion; ganglion
Others: sun stroke; obesity; chronic fatigue syndrome; abstinence syndrome
书名:名家针灸医案解读(英文)
作者:王宏才、郑真真、王惠珠
出版社:人民卫生出版社,2009年8月1日第1版
商品信息:精装本,16开本,290页
ISBN:9787117118088
内容提要
本书收录了三十余位针灸名家150份医案,涵盖了70个病种,既对每例个案进行了解读,又对每类病证进行了总结和概括,使读者能在应对一般和特殊的临床思辨中感受名家风范,启迪思路,提高诊治水平。此外,本书还特别注重体现名家的特色诊疗经验,比如郭诚杰教授治疗乳腺疾病、邵经明教授治疗哮喘等;同时,也关注不同名家对同一病证的不同治疗风格,让您充分品味针灸的异曲同工之妙,感受针灸的博大精深。
《名家针灸医案解读》分内科病证、妇科儿科病证、五官科病证、皮肤科外科病证等部分,是本实用性强的针灸临床参考书。所选医案来自中国中医名家杨介宾、程莘农、肖少卿、邵经明、田从豁、冯润身、楼百层、陆瘦燕、杨永璇、曹怀仁、杨甲三、郑艺钟、王法详、孙六和、石学敏、薄智云、陈跃来、郑魁山、梁赐明、郭成杰、贺普仁、钟梅泉、盛燮荪、凌煦之、 陈作霖、彭静山、冯丽、谭晓红、范红等。