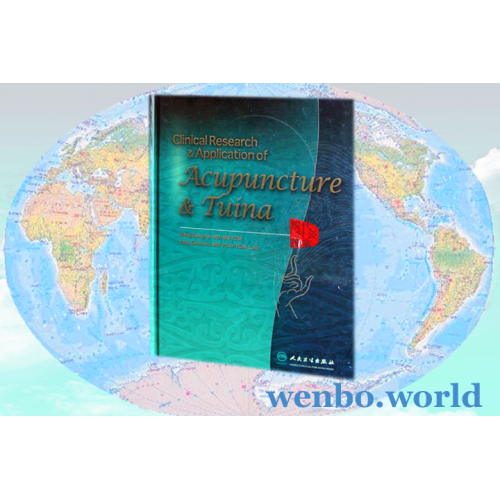 Clinical Research and Application of Acupuncture and Tuina
Brand: Product of China
Product Code: 2008hc
Reward Points: 425
Availability: In Stock
$84.99

Price in reward points: 8499
This book serves as a practical reference for body and ear acupuncture point location, clinical application, and manipulation technique and tuina techniques and application. It covers the origin and theory of acupuncture and tuina, including theory of the channels and collaterals, a presentation of the acupuncture points system, techniques of acupuncture and moxibustion, and tuina manipulation techniques. Additionally covered are common disease treatments and healthcare applications for pain, rehab, internal medicine, OB/GYN, EENT, weight management and smoking cessation, preventive moxibustion, and preventive tuina. The full-color photos that can be found throughout the book are helpful for highlighting exact point location, visual confirmation of needling methods, and hand placement and positioning for tuina therapy.
Title: Clinical Research and Application of Acupuncture and Tuina
By Jiang Song-he
Published by People's Medical Publishing House; English edition (2008)
Format: 7.50 x 10.50 inches, 322 pages, hardcover, library binding
ISBN: 9787117080514
The basic theory of acupuncture and tuina was developed in ancient China. Based on thousands of years of research and experience, the theory of channels and acupuncture points still guides the acupuncture and tuina clinics of today. There are records of Chinese medical literature ranging from ancient to modern times, which include a large number of books. Their language is often too archaic to be understood by modern people, especially those who do not special in Chinese medicine. Furthermore, channels theory is not completely understood, and modern acupuncture research has yet to bridge the gaps relevant to clinical practice. These obstacles block the development and extension of modern acupuncture and tuina.
Today, acupuncture and tuina remain useful therapies for functional rehabilitation and treatment. They have wide applications, from functional rehabilitation and treatment of pain syndrome, to treatment of diseases in internal medicine, gynecology, pediatrics, the five sense organs, and preventive medicine.
This book provides a full description of the acupuncture points with their functions and treatment methods as well as some clinical facts and scientific research. The guide to disease provides a full description to tuina techniques.
This book also includes detailed information on the author's clinical and laboratory research on the efficacy of these acupuncture points and tuina techniques.