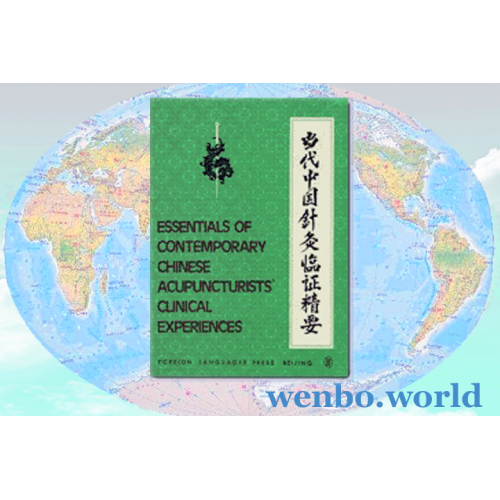 Essentials of Contemporary Chinese Acupuncturists' Clinical Experiences
Brand: Product of China
Product Code: 1989hc
Reward Points: 350
Availability: In Stock
$69.95

Price in reward points: 6995
A total of 293 widely varied cases are collected, including "penetrating" acupuncture with gold needles, suppurating moxibustion, treatment of scrofula, wind stroke and paraplegia, techniques of superficial insertion and frequent rotation, treatment of difficult diseases.
Title: Essentials of Contemporary Chinese Acupuncturists' Clinical Experiences
Author/editor: Chen Yongbang, et al.
Publisher: Foreign Languages Press (January 1, 1989)
Language: English
Hardcover: 639 pages
ISBN: 7119010425 / 9787119010427
Product Dimensions: 10.1 x 7.6 x 1.6 inches
Essentials of Contemporary Chinese Acupuncturists' Clinical Experiences features the essentials of clinical experiences and provides information and reference materials to readers who will share its benefits in their clinical practice and study.
The book consists of sixty-nine articles, each of which is the clinical speciality of a professor, an associate professor, or a research fellow. Every article is composed of three parts. Part one gives a brief introduction to the author's background, his or her major achievements, representative works, working unit and current professional titles. Part two deals with the academic characteristics and medical specialties; it covers the theory, technique, prescription, acupoints, acupuncture and moxibustion treatment and other treatment methods such as qigong and massage, and the instruments of acupuncture and moxibustion. Part three is a consideration of the case records, in which some typical cases are analyzed as proof to the theory under discussion, and some difficult cases, although not strictly related to the topic being discussed, are adopted when deemed necessary. Not every articles mentions all these items. There are a total of 293 cases collected in the book. 639 pages, hardcover.
Contents
Full Understanding of a Disease and Significance of Arrival of Qi -Yu Shuzhuang's Clinical Experience
Technique of Superficial Insertion with Frequent Rotation -Ma Shiming's Clinical Experience
Application of Qi Conducting and Meridian Regulating Manipulation -Ma Ruilin's Clinical Experience
Deep Insertion of Zhongwan (Ren 12), Heavy Moxibustion at Guanyuan (Ren 4), Bloodletting at Weizhong (B 40), and Venous Cupping Therapies -Wang Fengyi's Clinical Experience
Treatment of Scrofula, Wind stroke and Paralegia -Wang Leting's Experience
The Application of the Differentiation of the Meridian Reaction Points -Dr. Wang Pinshan's Clinical Experience
Acupuncture and Moxibustion Corresponding to the Syndromes and Combination of Points According to Its Rules -Dr. Wang Xuetai's Clinical Experience
The Theoretical Research and Application of Scalp Acupuncture -Fang Yunpeng's Clinical Experience
Refreshment of the Mind, Quantitation of the Manipulation, Zang-fu Differentiation and the Pricking Method of Bloodletting -Dr. Shi Xuemin's Clinical Experience
Proficiency in Penetrating Points with the Gold Needle -Ye Xinqing's Clinical Experience
Point Application and Herbal Moxibustion -Tian Chonghuo's Clinical Experience
Exposition of Penetrating Acupuncture with Long Needles -Feng Runshen's Clinical Experience
Five Necessities in Acupuncture and Research on Their Mechanism -Kuang Peigen's Clinical Experience
Research and Application of the New Nine Needles -Shi Huaitang's Clinical Experience
Priority for Qi Regulation and Magic Use of New Points -Bi Fugao's Clinical Experience
Synchronous Manipulation and Combination of Pair Points -Liu Jingshan's Clinical Experience
Proficient in Applying the Needling, Pricking, Scraping and Cupping Techniques -Qu Zuyi's Clinical Experience
Principle Based on Differentiation, Prescription According to Principle -Liu Guanjun's Clinical Experience
The Reinforcing and Reducing Method, Application of Back-Shu Points and Crossing Combination of Acupoints -Yan Runming's Experience
Advocating Acupuncture Treatment Based on Differentiation of Syndromes According to the Theory of Jingjin and Emphasis on the Research of Needling Technique -Dr. Guan Jiduo's Clinical Experience
Finger Pressure and Warm Reinforcement -Xu Shiqian's Clinical Experience
Suppurating Moxibustion -Yan Dingliang's Clinical Experience
Primary and Secondary Prescriptions and New Advances in Selecting Local Points -Li Zhuanjie's Clinical Experience
Standardization of Reinforcing and Reducing Method, Improvement of Moxibustion -Li Zhiming's Clinical Experience
Bloodletting Therapy and Selecting Points -Yang Jiebin's Clinical Experience
Studies of Selection of Points, Combination of Points and the Manipulations -Yang Jiasan's Clinical Experience
Five Steps in Differentiation and Multiple Shallow Needling -He Shuhuai's Clinical Experience
Selecting Points and Improving Acupuncture Implements -Yu Zhongquan's Clinical Experience
Three Steps in Needling, Three Prescription in Treating Paralysis -Song Zhenglian's Clinical Experience
The Clinical Study on the Needling Sensation -Zhang Jin's Clinical Experience
Point Injection and Ear Acupuncture Therapy -Zhang Heyuan's Clinical Experience
Congenital and Acquired Situation in Pulse Diagnosis, Warming Tonification and Cold Reducing in Acupuncture Techniques -Lu Shouyan's Clinical Experience
Classification in Toning and Reduction, Benefits from Acupuncture and Moxibustion -Chen Dazhong's Clinical Experience
Palpation of the Meridian and Time Phase of the Meridian -Chen Zifu's Clinical Experience
Reinforcing and Reducing by Slow and Quick Insertion of the Needle, and Scalp Acupuncture- Chen Keyan's Clinical Experience
Differentiation of Syndromes in Meridians, and Balancing the Liver and Spleen -Chen Zuolin's Clinical Experience
Effect of Back-Shu Point in the Treatment of Mental Disorders -Shao Jingming's Clinical Experience
Effect of Moxibustion -Luo Shrong's Clinical Experience
Regulation of the Spleen, Stomach and Qi -Zheng Zhuoren's Clinical Experience
Treatment of Difficult Diseases with "Eight Methods" -Zheng Kuishan's Experience
Heat-reinforcing and Cold-Reducing and the Eight Needling Methods -Dr. Zheng Yulin's Clinical Experience
Acupuncture with Massage to Induce Qi Flow and Kill Pain -Zhao Yuqing's Clinical Experience
Selection of Points Based on Minute Differentiation of Syndromes -Zhao Erkang's Clinical Experience
Consistency of Pathogenesis, Method of Treatment, Prescription and Needling Techniques, and Correct Application of Acupuncture, Moxibustion and Point Injection -Jiang Shuming's Clinical Experience
Treatment of Diseases with the Five Ancient Acupuncture Techniques -Jiang Yijun's Clinical Experience
Skillful Needling Technique and Effective Methods for Saving the Dying and Curing the Sick -Shi Jimin's Clinical Experience
Reinforcing and Reducing with Moxibustion and Simple Selection of Acupoints -Zhong Yueqi's Clinical Experience
Stress on Differentiation of Qi, Toning the Spleen and Purging the Liver of Pathogenic Fire -He Huiwu's Clinical Experience
Three Methods to Remove Stagnation of Qi - Chief Cause of a Disease -He Puren's Clinical Experience
Skillful Use of Acupoints in Du Meridian and Confluent Points of Eight Extra Meridians, Pioneering in "Needle-Substitute Herbal Paster" and "Moxibustion with Herbal Pad" -Qin Liangfu's Clinical Experience
Analysis of the Diseased Area with the Combined Approaches of Western and Traditional Chinese Medicine, Depth on Puncturing the Points of the Du Meridian and the Shu-Points -Yuan Shuo's Clinical Experience
Clinical Application of the Theory of Spleen and Stomach in Acupuncture Treatment -Yuan Jiuling's Clinical Experience
Study and Application of the Lightning Point -Xu Bin's Clinical Experience
Quick Needling Technique and New Ways for Selecting Acupoints -Xu Benren's Clinical Experience
Inserting Needles in Sequence, Withdrawing Needles in Particular Conditions -Gao Yuchun's Clinical Experience
Reinforcing and reducing Manipulations and the Properties of the Points, Investigation of New Points and Emphasis on Differentiation According to the Theory of Meridians and Collaterals -Gao Zhenwu's Clinical Experience
Research on Breast Tumors -Guo Chengjie's Clinical Experience
Theory and Application of the Effective Spots in Acupuncture -Guo Xiaozong's Clinical Experience
Treatment with Ren-Du Acupoints, Bleeding Collaterals in Relieving Blood Stagnation -Xi Yongjiang's Clinical Experience
Four Needling Methods and Eye Disorder Differentiation -Huang Shengyuan's Clinical Experience
Concise Selection of Acupoints and Seeking Qi Arrival by Manipulating the Needles -Huang Xianming's Clinical Experience
Elaboration of Acupuncture Essentials and Eye Needling Therapy -Peng Jingshan's Clinical Experience
Treatment Based on Differentiation of Syndromes, Herbs and Acupuncture Being of the Same Source -Cheng Xinnong's Clinical Experience
Adopting Right Secondary Points and Puncture Techniques, Combining Acupuncture with Qigong -Jiao Guorui's Clinical Experience
Research on Scalp Acupuncture -Jiao Shunfa's Clinical Experience
Techniques of Deep Insertion at Fengfu Point and the Application of Direct Moxibustion -Xie Xiliang's Clinical Experience
Treatment Methods Varying with Different Symptoms, Effects Obtained from Different Acupoints -Lou Baiceng's Clinical Experience
Application of Qi Inducing Method and Making A Herbal Fumigator -Yan Youzhai's Clinical Experience
Simultaneous Needling of Two acupoints and Selection of Specific Points -Wei Fengpo's Clinical Experience
Index