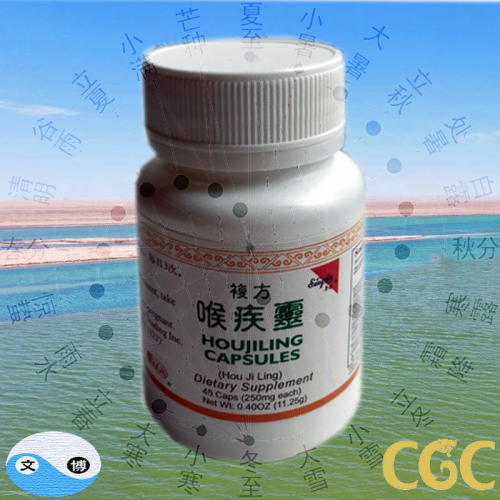 Houjiling Capsules
Brand: Xing Ling
Product Code: 1x45cps
Reward Points: 60
Availability: In Stock
$5.99

Price in reward points: 599
used for sore thoat, mumps, tonsillitis, acute pharyngitis, acute attack of chronic pharyngitis and throat problems. This patent remedy "Hou Ji Ling" is primarily used for clearing away heat and removing toxin, relieving sore throat and diminishing swelling in cases of throat diseases due to syndrome of wind and heat invading the lung, a viral infection, syndrome of excessive heat of the lung and stomach.
Product label: Houjiling Capsules
(Hou Ji Ling)
Used name: Throat Formula
Packing: 45 capsules / bottle
Origin: Product of China.
Ingredients: Isatis (root), Chebulic myrobalan (fruit), Forsythia (fruit), Platycodon (root), Trichosanthes root, Pearl powder (cibcga margaritifera).
Actions: Clearing heat and resolving toxins, dispersing swelling and dissipating bind.
Indications: Use for acute heat toxins causing sore throat, strep throat, tonsillitis, lymphatic swelling and laryngitis. Also for upper respiratory infections including sinusitis, and bronchitis.*
Direction: As a dietary supplement take 4 capsules each time, 3 times a day.
Warning: Do not use if you are pregnant.
*These statements have not been evaluated by the Food & Drug Administration. This product is not intended to diagnose, treat, cure or prevent any disease.
通用名称:喉疾灵胶囊
汉语拼音:houjiling Jiaonang
包装规格:每瓶装45粒,每粒装0.25克。
主要成分:板蓝根、桔梗、诃子、连翘、天花粉、珍珠层粉等。
功能与主治:清热,解毒,散肿止痛。用于腮腺炎、扁桃体炎、急性咽炎、慢性咽炎急性发作及一般喉痛。
服法与用量:口服,一次3-4粒,一日3次;儿童酌减。
注意事项:孕妇忌用。
喉疾灵胶囊是纯中药制剂。具有清热解毒,消肿止痛。临床上用于腮腺炎,扁桃体炎,急性咽炎,慢性咽炎急性发作及一般喉痛。起效迅速,作用明显,在民间有中药抗生素的美称。在临床应用中未发现毒副作用,而且产品质量稳定。