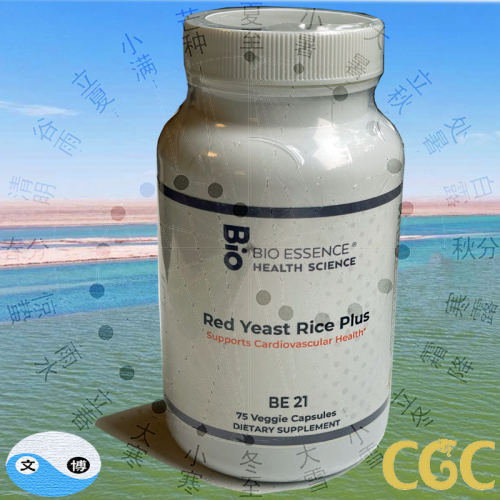 Red Yeast Rice Plus
Product Code: 1x75cps
Reward Points: 100
Availability: In Stock
$19.99

Price in reward points: 1999
Red yeast rice extract combining with outstanding herbs which are used to lower cholesterol and triglycerides, promote blood circulation and protect blood vessel. It is an ideal dietary supplement to lower cholesterol, in the meantime maintain a healthy functioning liver.
Product label: Red Yeast Rice Plus
Packing: 75 capsules / bottle
Made in US.
Ingredients:
Red yeast rice (U.S. Grown & Fermented Certified Organic Rice)
Milk Thistle (Nai Ji Cao)
Salvia root extract (Dan Shen or Red Sage)
Hawthorn Berry (Shan Zha or Crategus).
Actions: Promoting blood circulation and maintaining coronary and cardiovascular systems healthy.
Indications: Used to lower cholesterol and triglycerides. Good for cholesterol control.*
Daily Dosage: take 3 capsules each time, twice a day; supplement facts contain total of 2,400 mg red yeast rice extract with 600mg of 3 herbal extract listed above.
Some herbal and nutritional formulas are good to take together for Cardiovascular health such as: Powerful Heart, Prime Granule, Hawthorn Extract Tablet.
Precautions:
Because there is little information about the safety of red yeast rice when it is used over an extended period of time, it is best to limit its use to short term.
People who are at risk for liver disease, or currently have liver disease, should not take red yeast rice because, similar to prescription cholesterol lowering
medications, red yeast rice may affect liver function.
Those who consume more than two alcoholic beverages per day, have a serious infection or physical disorder, or have undergone an organ transplant are also advised to avoid red yeast rice.
Avoid using on Pregnancy and Breastfeeding and on children under 18 years of age.
Side effects of red yeast rice are rare but can include: Headache; Stomach ache and/or bloating; Gas; Dizziness; Heartburn; unexplained muscle pain especially accompanied by flu-like symptoms. Decreasing dosage or stop using and consult your health professional authority if occurred.
Interactions:
1. Red yeast rice should not be taken with cholesterol-lowering (statin) medications known as HMG-CoA reductase inhibitors (such as atorvastatin, lovastatin, fluvastatin, simvastatin, pravastatin, cerivastatin), because it may enhance the effect of these medications, thereby increasing the risk of liver damage.
2. When grapefruit or grapefruit juice is taken with HMG-CoA reductase inhibitors, they enhance the effects of the medications and cause a significant increase in blood levels of these synthetic drugs, leading to a greater chance of side effects and liver damage. It would be wise to avoid drinking grapefruit juice or eating grapefruit or grapefruit products such as marmalade while taking red yeast rice.
*These statements have not been evaluated by the Food & Drug Administration. This product is not intended to diagnose, treat, cure or prevent any disease or disorder.
紅麴米抽出物
每瓶75粒
美国制造
紅麴米降膽固醇
美國熱門產品用來降低膽固醇和三酸甘油脂之有效食品補充品。1997年美國發表之文獻報告,兩位中國研究學者曾以紅麴菌和絞股藍在五百位高血脂病患身上使用比較。以每日2次,每次各服用600毫克劑量,在八週後服用紅麴米和絞股藍對照組結果比較如下:
全部膽固醇含量分別降低22.7%,對照組7%,低密度脂蛋白降低30.9%比對照組減很多。高密度脂蛋白(好膽固醇)增加19.9%,對照組8.4%。 三酸甘油脂降低34.1%,對照組12.8%。效果可觀。