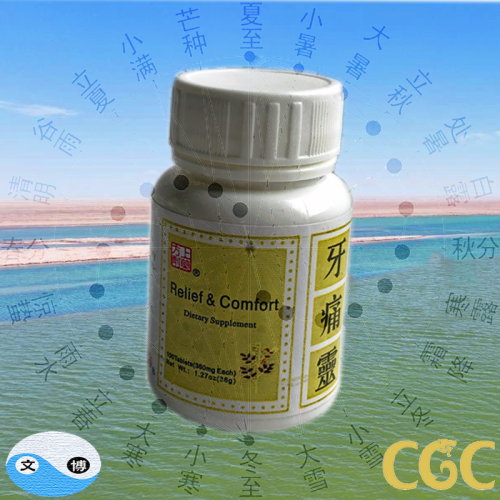 Relief & Comfort
$19.99

Price in reward points: 1999
Use for swelling and pain of the gums, inflammation of the gums, toothaches, supplement to clear away heat and alleviate pain for cases of toothache, tooth infection, acute gum disease, and gum bleeding.
Product label: Relief & Comfort
Packing: 100 tablets (360mg each) / bottle
Manufactured by Shanghai Traditional Herb Factory, China.
Ingredients:
Trichosanthes (root)
Fragrant angelica (root)
Clove (flower bud)
Long pepper (fruit).
Actions: Clears away heat and alleviates swelling, stops pain.
Indications: Used for toothache, periodontal abscess and gingival bleeding.*
Directions: Take 6 tablets once time, 3 times a day with warm water.
Don't use during pregnancy.
*These statements have not been evaluated by the Food & Drug Administration. This product is not intended to diagnose, treat, cure or prevent any disease.
通用名称:牙痛灵片
汉语拼音:ya tong ling pian
包装规格:每瓶装100片,每片0.36克。
主要成分:天花粉、白芷、丁香、荜茇等。
功能与主治:清热,消肿,止痛。用于牙痛、牙周脓肿及牙龈出血等。
服法与用量:口服,一次6片,一日3次。