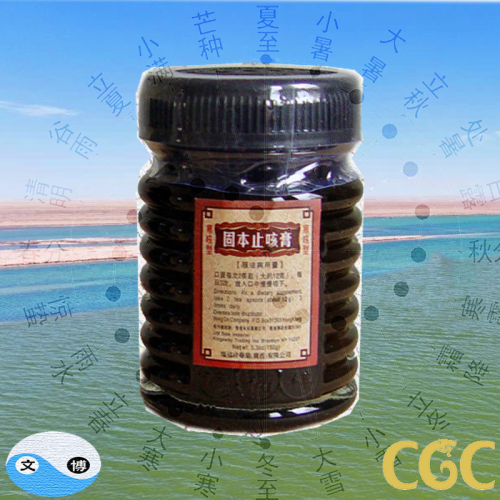 Sooth and Comfort I (Pattern of Cold Cough)
Brand: Yin Kong
Product Code: 1x150g
Reward Points: 100
Availability: In Stock
$9.95

Price in reward points: 995
Helps promote bronchial tract health and maintain a healthy respiratory system by consolidating the Lung and Kidney. On the base of Zhuang folk medicines, it's formulated for senior citizens with chronic cough and debility with endogenous cold. It is applicable to damp or cold phlegm cough, coughs due to dysfunction of the lungs and kidneys.
Product label: Sooth & Comfort I (Oral)
- Pattern of Cold Cough
Packing: 5.3 oz (150g of semi fluid) per jar, about 12 services
Manufactured by Guangxi Yungan Herbal Factory, China.
Active ingredients:
Astragalus root
Schisandra fruit
White mulberry young twig
Coltsfoot flower bud
Epimedium leaf
Actions: Supplementing the lung and warming the kidney, relieving cough and dispelling the phlegm.
Indications: Use for dual vacuity of the lung and kidney, cold cough, expectoration of phlegm, chronic bronchitis. Specially works for phlegm-syndrome caused by cold-wetness evil.*
Directions: As a dietary supplement, take 2 teaspoonful each time, three times daily.
*These statements have not been evaluated by the Food & Drug Administration. This product is not intended to diagnose, treat, cure or prevent any disease.
通用名称:固本止咳膏
汉语拼音:gu ben zhi ke gao
包装规格:每瓶150克,大约可服12次
主要成分:土垄大白蚁巢、五味子、淫羊藿、矮地茶、苦杏仁、黄芪、款冬花、蜂蜜等。
功能与主治:补肺温肾、止咳祛痰。用于肺、肾两虚证,寒咳咳嗽。症见:咳嗽,咯痰,喘促等,以及慢性支气管炎见上证侯者。
服法与用量:口服,一次12克,一日3次;或遵医嘱。
固本止咳膏
固本止咳膏源于壮族民间秘方,是以广西土垄大白蚁巢作为主要原材料,并配以其他平喘止咳的中药材,根据壮医壮药三道二路畅通,"毒"与"虚"致百病及阴阳平衡的理论,在继承和发扬民族医药特色的基础上,利用高科技工艺,自动化生产流程提取其中高效成份,研制而成的疗效确切的独家专利产品。本品主要用于肺肾两虚、咳嗽、咯痰、喘促之慢性支气管炎,能补肺温肾、止咳、袪痰、平喘,以治本为主,标本兼治,以达到固本清源之疗效,且温补不燥,老年人每晚睡前服食,可安心宁神;烟酒过多服食,起清音排毒、固元润肺之功;心火气盛、烦燥不寐,冲水服之,可清心降火,安神镇静,实为久咳体虚的中老年人及居家旅游的理想药品。
固本止咳膏具有镇咳、祛痰、平喘和抗炎作用。对虚、寒、久咳的治疗,对治疗慢性支气管炎,特别是针对中老年人虚、寒、咳、久的特征有明显确切的疗效,而且无副作用,见效快,具有固本培元,强身健体,增强免疫的功能,从而达到标本兼治的理想效果。