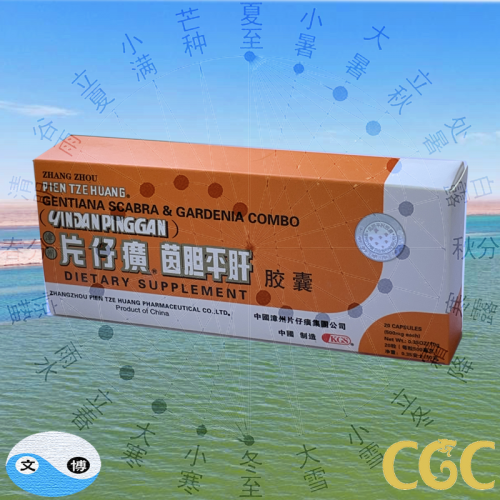 yin dan ping gan capsule (Gentiana Scabra Gardenia Combo)
Brand: Product of China
Product Code: 1x20cps
Reward Points: 100
Availability: In Stock
$9.99

Price in reward points: 999
for nausea, anorexia, fatigue, abdominal distension, hypochondriac pain, jaundice, hepatomegaly, splenomegaly, fever, symptoms of hepatitis. This Chinese remedy is recognized as good clearing away internal heat and removing dampness. It is helpful for people who suffer acute jaundice hepatitis and chronic hepatitis.
Product label: Pien Tze Huang Gentiana Scabra & Gardenia Combo
(Yin Dan Ping Gan)
Packing: 20 capsules per box
Manufactured by Zhangzhou Pianzihuang, China
Ingredients:
Artemisia (shoots)
Chinese gentian (root)
Chinese skullcap (root)
Capejasmine (fruit)
Peony (root)
Angelica (root)
Chinese licorice
Actions: Clears heat and drains dampness, and abates jaundice.
Indications: Liver-gallbladder dampness-heat pattern marked by distending pain in the hypochondrium, accompanied by bitter taste in the mouth, yellow urine, and jaundice; Acute hepatitis and chronic hepatitis with the pattern mentioned above.*
Directions: Take 3 times a day, 2 capsules each time.
Precautions and Warnings: Don't use for complete bile dust obstruction. Avoid cigarettes, alcohol, pungent, spicy and oily food.
* The above statement has not been evaluated by the Food and Drug administration. This Product is not intended to diagnose, treat, cure or prevent any disease.
通用名称:片仔癀茵胆平肝胶囊
汉语拼音:pian zi huang yin dan pin gan jiao nang
包装规格:每盒装 10粒 X 2板铝塑片
主要成分:茵陈、龙胆草、栀子、黄芩、当归、白芍(炒)、甘草 。
功能与主治:清热利湿、消黄。用于急慢性黄疸型肝炎,也可用于慢性肝炎。
服法与用量:口服,一次2粒,一日3次。
注意事项:胆道完全阻塞者忌服。
片仔癀茵胆平肝胶囊是国家中药保护品种,纯中药制剂、有茵陈、龙胆等组成,是漳州片仔癀公司精心研制的一个有效方剂。片仔癀茵胆平肝胶囊(原名片仔癀肝宝)。该方剂以中医学理论为指导,结合现代科学方法,精心提炼其有效成份配制而成。
片仔癀茵胆平肝胶囊具有清热利湿,泻火退黄,养血补肝的肯定疗效,对于急慢性病毒性肝炎,甲型或乙型,或甲乙混合型肝炎,都具有显著的疗效,对肝炎引起的临床症状和体征,如恶心、纳呆、乏力,腹胀、胁痛、黄疸、肝肿大、脾肿大、发热等,有明显的消除和改善的作用。