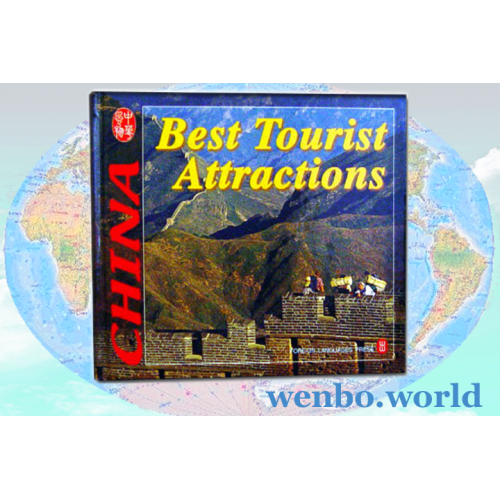 Best Tourist Attractions (English)
Product Code: flp2003p107
Reward Points: 200
Availability: In Stock
$19.99

Price in reward points: 1999
China is a vast country with beautiful scenery, 5,000 years of brilliant history and a wealth of cultural relics. If you have the chance to visit China, you will feel the charm of its ancient civilization. Best Tourist Attractions is an album with beautiful pictures and explanatory text, introducing China's history and natural scenery.
Culture of China Series: Best Tourist Attractions
by Lan Peijin (Text)
Published by Foreign Languages Press, 2002
Language: English
ISBN 7119031856 9787119031859
Hardcover, illustrated, dimension 190mm x 170mm, 107 pages

This book introduces best tourist sites in Beijing, Tianjin, Hebei, Inner Mongolia, Heilongjiang, Jilin, Liaoning, Shaanxi, Gansu, Ningxia, Qinghai, Xinjiang, Shandong, Jiangsu, Anhui, Shanghai, Zhejiang, Jiangxi, Fujian, Henan, Hubei, Hunan, Sichuan, Chongqing, Guizhou, Yunnan, Tibet, Shangdong, Guangxi, Hainan, Taiwan, Hong Kong, Macao.
书名: 中国旅游巡览
作者: 《中国旅游巡览》编委会
语种: 英语
出版社: 外文出版社
出版日期: 2003-01-01
ISBN: 9787119031859
装帧: 精装
开本: 32开
页码: 106
内容提要
本书系全英文图书,以大量精美的图片和简明的文字展示并介绍了中国的历史自然景观,既可以为国外旅行者选择游览目的地提供帮助,同样也具有很高的艺术和欣赏价值。